Surfing in Spain and the Caribbean. Your unforgettable surf vacation.
Learn to surf in Spain. Liquid Surf is based in Langre, which is a small coastal town located in the northeast of Spain,nestled in the beautiful Bay of Biscay. You can expect to find perfect surf conditions scattered around our coastline, suitable for all levels of surfing. All this set in a great and relaxing atmosphere. The Liquid surf crew look forward to welcoming you to this region we call home. We'll be happy to introduce you to the surfer life in this part of Spain. We're also celebrating our 10th birthday at Liquid Surf, feel free to come and join us in the celebrations – see you soon in sunny Spain.
Surfing directly on the Jacobsweg in breathtaking nature

Soul food at Liquid Surfhouse

Family atmosphere and top surf coaches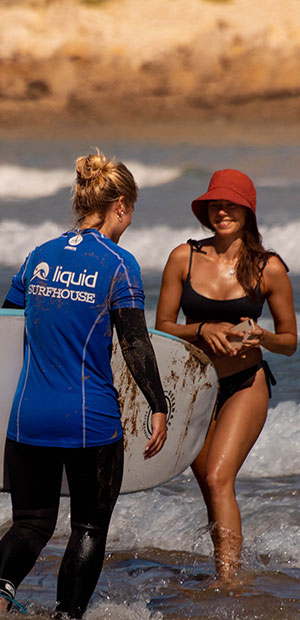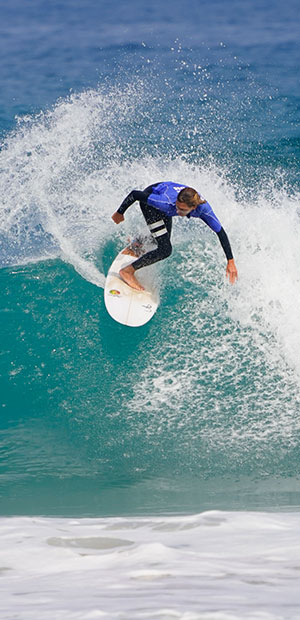 Learn to surf with Liquid Surf
Our surf camps in Spain & Barbados Liquid Surf – Our surf camps at a glance
Our Liquid Surfhouse wellness offer
Relax, enjoy and just relax
YOGALATES
Jacqui teaches Yogalates (Yoga & Pilates) at Liquid Surfhouse. She studied various yoga styles in India and Thailand for several years and then completed training in Pilates and anatomy in Spain. She has been teaching Yogalates since 2008. We offer you this perfect balance to surfing 3 times a week. You can book an hour for €10 on site or a ticket for 3 for €25. Lessons take place in small groups.
MASSAGES
Sabrina is our fairy godmother for massages after sport. She came to Spain from Argentina and is a trained chiropractor, osteopath and nutritionist. If the muscles are tense after a long day of surfing, a massage provides the right relaxation to continue surfing healthy and lively the next day. We offer massages 3 days a week (30 minutes for €19).
If you are looking for a top quality surf school in Langre, Spain then Liquid Surf is the perfect choice. This surf school offers both beginners and advanced surfers high-quality surf courses to learn or perfect surfing and surfing.
The surf school is close to the beautiful beaches of Langre, known for their spectacular waves and perfect surfing conditions. Liquid Surf has experienced and certified surf instructors who respond individually to the needs and abilities of each participant and supervise them in small groups. This ensures an optimal learning environment and rapid progress.
The surf school offers various courses, including beginner and advanced courses, private lessons and special courses for children. All courses include a theoretical introduction to the basics of surfing and surfing as well as practical exercises in the water. Equipment is provided by Liquid Surf, including surfboards and wetsuits.