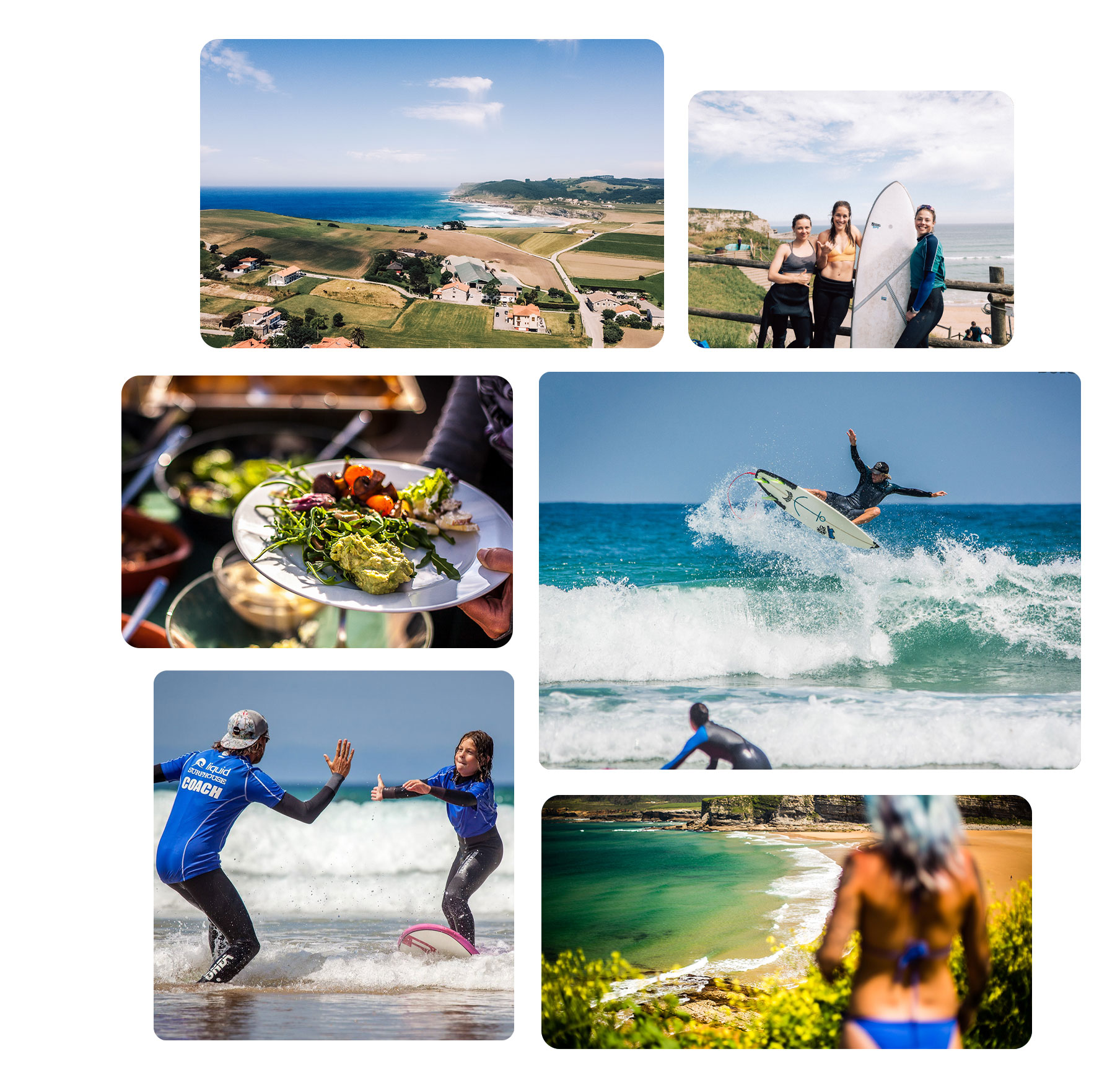 Liquid Surfhouse, das Surfcamp in Langre Spanien
Bookable weekly
Arrival and departure days on Saturdays and Sundays
Accommodation
Choice of 2, 3 or 4-bed rooms, all with their own bathroom and toilet.
Season
from early May to late October
Welcome to Cantabria, also known as "Green Spain". Nestled between mountains and the ocean is the small town of Langre in northern Spain. Surfcamp Langre is just an 8-minute walk from the sandy beach of Langre Bay. Here the waves break in a particularly orderly and constant manner and thus offer ideal conditions for surfing. Warm water, breathtaking nature and the Spanish nightlife round off the perfect surfing holiday.
The Surfcamp
is our base in Langre and is self-managed.
In our in-house surf bar we let it rip with cool drinks in a hot atmosphere at our legendary party night. Of course, enough rest and relaxation is also provided during your stay. We also organize great Movie Nights in our in-house cinema with a projector.
Our hotel is located 5 minutes walk from the sea. Due to its quiet location, the Surfhouse is perfect for switching off and relaxing. You can choose to stay in 2, 3 or 4-bed rooms with their own bathroom and toilet.
The hotel offers you a bar and a large garden for sports activities. The 22 rooms can accommodate around 45 guests. Full board can be booked as an option. Alternatively, there are many cozy restaurants in the nearby towns of Loredo and Somo.
We are equipped with slackline, indoboards, table tennis, skateboards and mountain bikes.
The basketball court can be reached in 5 minutes on foot.
We are happy to organize table tennis tournaments and other sporting events.
Our yoga sessions and massages take care of your physical well-being.
Yoga/Wellness
Yoga und Massagen mehrmals wöchentlich dazubuchbar
Multifunction sports field
Our accommodation/rooms at the Liquid Surfhouse in Langre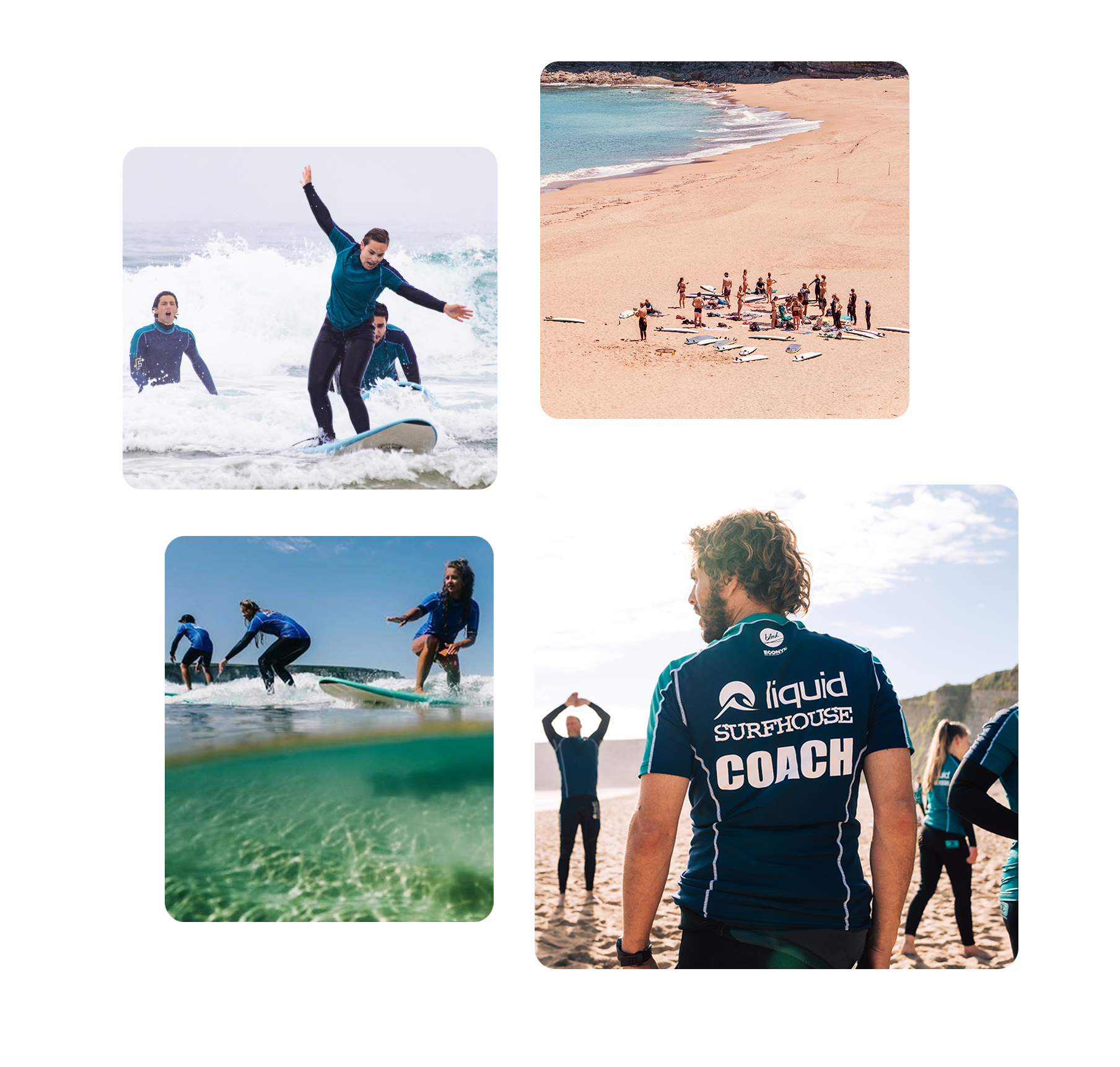 Our surf courses for you in Langre, Spain, with top surf coaches
Our courses are divided into beginner, intermediate and advanced courses. All courses follow a proven, methodical learning concept. Weekly appointments can optionally be extended by one week. The course takes place 5 days a week and the material is available for practice on the 6th day when there is no course.
We assess your skills on site and place you in the appropriate course levels.
Our surf instructors are all licensed and have many years of experience in surfing and teaching. There are various institutions that offer surf instructor training. We only accept certificates from the DWV (German Surfing Association), ISA, FES, or BSA to ensure the highest standards.
Private Lessons and Guided Tour
We offer private lessons and guided tours on request. We would be happy to put together an individual program for you.
The region around Langre
The surroundings of Santander – Cantabria, a jewel on the northern Spanish coast – also have countless sights and excursion destinations to offer beyond surfing life. Cantabria stretches from the Bay of Biscay to the Picos de Europa, a mountain range with peaks over 2000 meters high.
In addition to surfing, a wide variety of sporting activities such as B. Rafting, Gotcha, motorcross, mountain biking, hiking tours, diving, kiting, and windsurfing are offered.
If you want to experience something completely different, you can experience beautiful national parks with bears still living in the wild.
Culturally, there is also a lot going on here. There are caves, animal parks, medieval villages such as Santillana del Mar and the student town of Comillas, which is home to a Gaudi house. A highlight is the Guggenheim Museum in Bilbao – a day trip is ideal for this.
Restaurants
You will find restaurants with culinary highlights throughout the region
Bars & Clubs
can be found in Somo and Loredo. Best Nightlife in Santander
Supermarket
the closest is the supermarket in Loredo
Pharmacy
can be found in Somo or in Santander
skate park
the legendary skate park from our videos is in Loredo. There is another one in Somo
Surf shop
there are well stocked surf shops in Somo. Regional shapers: Full & Cas and Kuntiqi
Travel information from liquid Surf
Arriving by plane
Ryanair takes you from Berlin to Santander. Eurowings from all major German airports to Bilbao.
All other major airlines fly to Bilbao. Feel free to check Skyscanner or Opodo.
airport transfer
From and to Bilbao or from and to Santander Airport we offer a transfer on request.
In principle, public transport also runs from Santander and Bilbao to Langre. The bus company is called ALSA. From Santander you can easily reach Somo by ferry in 20 minutes. From Somo to Langre it is about 3 km. Timetable Los Reginas
arriving by car
For those of you who don't want to do without your car, there is of course also the possibility to travel by car. The distances are z. E.g. Hamburg – Santander 1,900 km, Cologne – Santander 1,600 km.
Google Maps will help you with the planning
Arrival by bus & train
Arriving by bus is easily possible from many places and, above all, cheap, but you have to be prepared for a very long journey.
We advise against arriving by train.
Railroad station
in Santander 25km away from Liquid Surfhouse
Airport
Santander about 25 km. Bilbao about 100 km away
arriving by car
 E.g. Hamburg – Santander 1,900 km, Cologne – Santander 1,600 km
Bus
Bus station in Somo 3.6 km away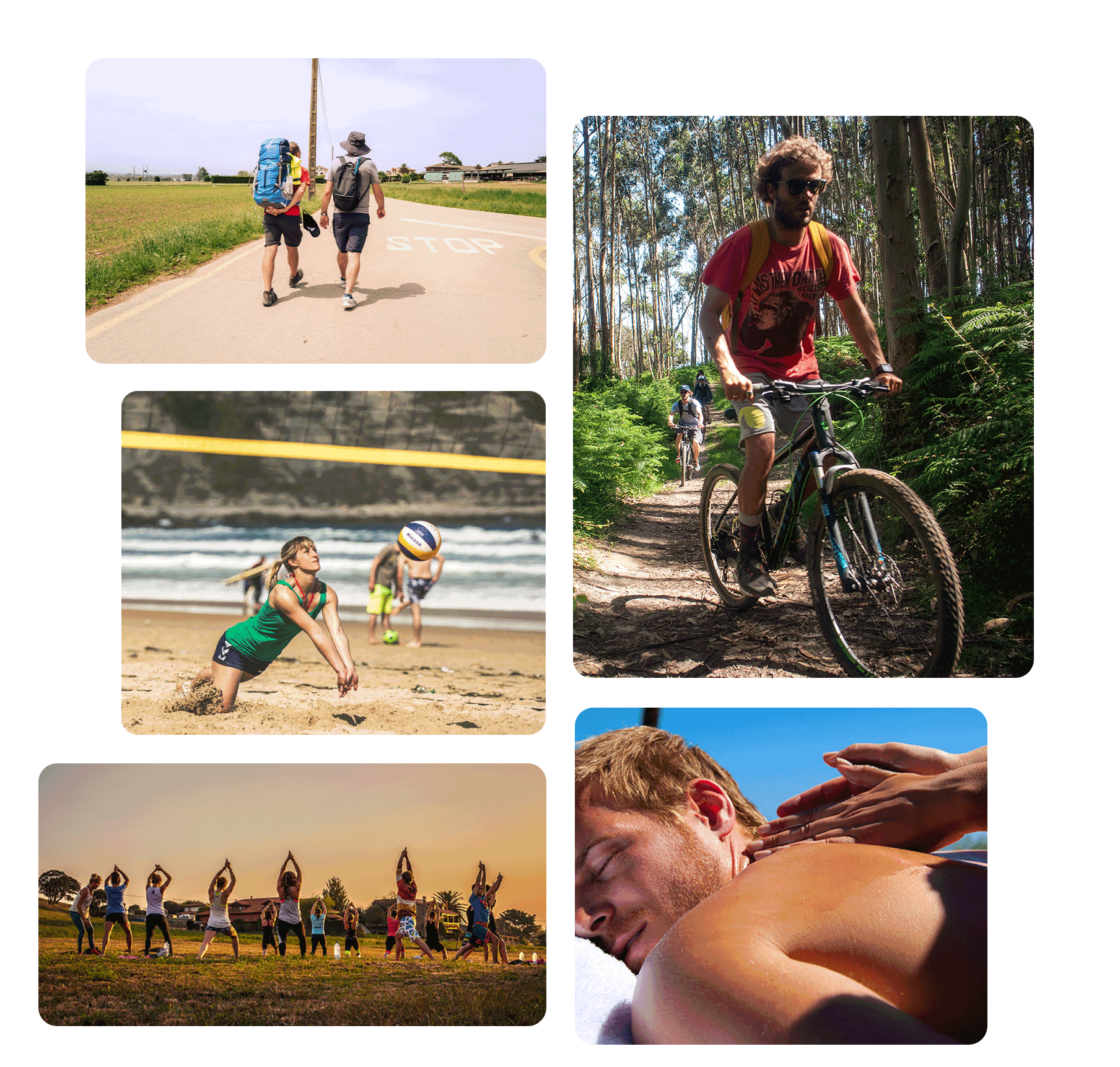 Activities other than surfing
Hiking and cycling tours
Our surf camp is located directly on the Jacobsweg and offers breathtaking landscapes for unforgettable hikes and bike tours even before our house tour. Enjoy the view over the sea from the cliffs and let your soul dangle after you have exhausted yourself on the mountain bike tour.
massages
Sabrina is our fairy godmother for massages after sport. She came to Spain from Argentina and is a trained chiropractor, osteopath and nutritionist. If the muscles are tense after a long day of surfing, a massage provides the right relaxation to continue surfing healthy and lively the next day. We offer massages 3 days a week (30 minutes for €19).
Yogalates
Jacqui teaches Yogalates (Yoga & Pilates) at Liquid Surfhouse. She studied various yoga styles in India and Thailand for several years and then completed training in Pilates and anatomy in Spain. She has been teaching Yogalates since 2008. We offer you this perfect balance to surfing 3 times a week. You can book an hour for €10 on site or a ticket for 3 for €25. Lessons take place in small groups.
further activities
Our Liquid Surfhouse has a trampoline, table tennis table and slakline. If you feel like chilling in between, you can simply have a cozy time on our sun deck or in one of our hammocks. You also have the opportunity to go on a tour with our longboards or play volleyball on the beach. A few minutes away you will find a multifunctional sports field.
Book your 2023 surf holiday now